Steward - McConnell Laminitis and Founder Clinic, Ancaster, Ontario (11.75 CE)
February 11, 2023 - February 12, 2023
9:00 AM - 4:00 PM Eastern
Clinicians:
Michael Steward DVM
Steve McConnell CF APF
This is a rare, possibly a once in a lifetime, opportunity to learn from two clinicians with a combined 76 years of experience and hundreds of successfully treated laminitic and foundered equines. This 2-day clinic will cover the causes, progression of physiological, morphological and biomechanical changes as well as treatment and recovery from this life-threatening condition.

APPROVED FOR 11.75 IAPF CONTINUING EDUCATION CREDITS
Day 1:

Dr. Steward, the pioneer of the clog for use on laminitis and founder, will explain the history and development of the original "Steward" clog's biomechanical orthotic effects and benefits. Madeline Boast, MSc Equine Nutrition, an independent equine nutritionist, will discuss the management of your equine's diet during and after a laminitis/founder diagnosis and treatment.
Dr. Stephanie Crawford DC CAC will then discuss the importance of supporting the whole horse utilizing a variety of modalities during treatment and recovery.
Steve McConnell will go through the process of "creating a plan" to ensure the best possible outcome, returning the equine to mobility, building a team of professionals, setting goals and having realistic expectations for all involved.
This will be followed by modifications to clogs and the criterion, precautions and numerous case studies ending the day with a Q&A with clinicians and speakers.

Day 2:
Starting with a summary of day 1 we will have hands-on demonstrations of clog application for a variety of conditions, scenarios and the safe and efficient removal of clogs. Local veterinarians will be informed of the clinic and if there are current/active cases of laminitis and founder available, that can be transported to the venue safely, Dr. Steward and Steve will treat them on site in the afternoon. McKee-Pownall Equine service will be providing us with a veterinarian to not only ensure the comfort and safety of any horses there for the live demonstration but will also provide radiographs and venograms prior to and after treatment. This clinic is open to farriers, veterinarians, veterinary assistants, all equine professionals, trainers, owners and anyone interested in learning more about this life-threatening condition. There are applications out for CE credits for equine professionals where applicable and I will update as to their approval and number of credits

Venue: Ancaster Fairgrounds, in the Agriculture Event Centre. 630 Trinity Rd., Ancaster, Ontario, Canada. (This building is fully heated and has bleacher seating available).

Cost: $150/day or $250 for the weekend. Lunch provided both days.

Contact: info@hoofdoctor.com to register

Host Hotel: Days Inn by Wyndham, 460 Fairview Dr., Brantford, Ontario. 1-519-759-2700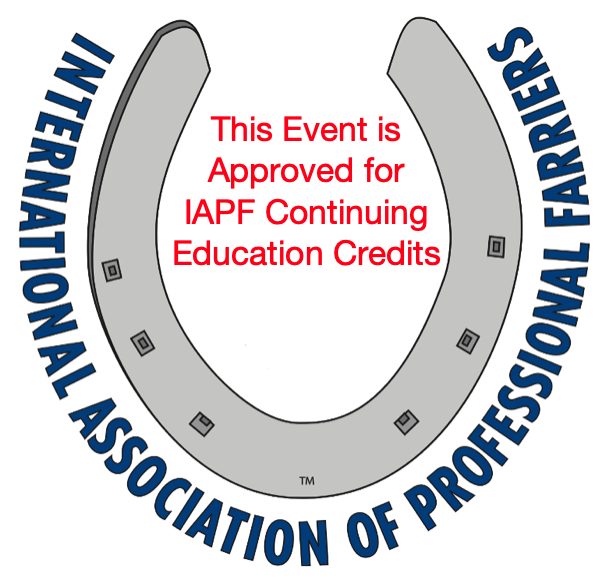 Approved for 11.75 IAPF Continuing Education Credits
return to INTERNATIONAL ASSOCIATION OF PROFESSIONAL FARRIERS